Book 3 is Here!
Men are confusing, alive or dead.
Imogene Lynch, assistant to the head embalmer at Greener Pastures Mortuary, feels the final sensations of the deceased when she touches their hair. So, why did she get a hit from a 200-year-old skull?
An earthquake reveals a long-hidden tomb under the historic San Juan Capistrano Mission. El—the night watchman at the mortuary and her new flame—sneaks her in to see it. When Imogene stumbles into a mound of bones and dislodges a skull, she's plagued by an itching attack that won't quit until she discovers who killed the cranium's owner. But how do you solve a crime that happened centuries ago?
Author Greta Boris is a master murder mystery storyteller. She combines intrigue and suspense with believable characters packed in a plot that is intense from cover to cover.—Amazon Reviewer
An OC Murder Series
Ordinary women. Unexpected evil. A series of taut psychological suspense novels that expose the dark side of sunny Southern California.
When the dead want justice, they follow her home.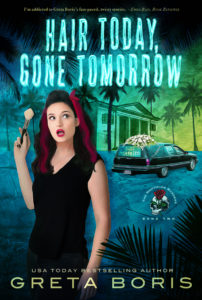 Imogene Lynch, one-time hair stylist, has an unusual ability. She feels the final sensations of the dead when she touches their hair. It's always inconvenient, sometimes annoying, but once in a while, it's deadly.
If you can imagine Agatha Raisin as a twenty-something, rockabilly ex-hairstylist with a weird connection to the dead, this series is for you!