Book 2 is Here!
Nothing says romance like his and hers caskets.
Imogene Lynch has decorated the chapel for Greener Pastures' first wedding-funeral, but on the morning of the big event, one casket is empty. Has the bride gotten cold feet? Or has someone absconded with her? Imogene is determined to reunite the deceased couple, or die trying.
Author Greta Boris is a master murder mystery storyteller. She combines intrigue and suspense with believable characters packed in a plot that is intense from cover to cover.—Amazon Reviewer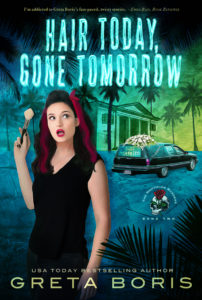 An OC Murder Series
Ordinary women. Unexpected evil. A series of taut psychological suspense novels that expose the dark side of sunny Southern California.
When the dead want justice, they follow her home.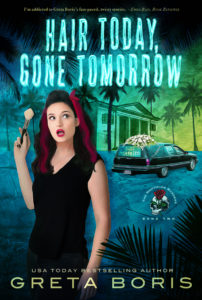 Imogene Lynch, one-time hair stylist, has an unusual ability. She feels the final sensations of the dead when she touches their hair. It's always inconvenient, sometimes annoying, but once in a while, it's deadly.
If you can imagine Agatha Raisin as a twenty-something, rockabilly ex-hairstylist with a weird connection to the dead, this series is for you!